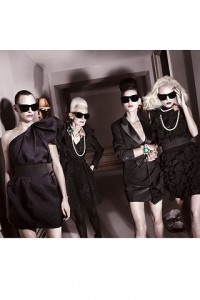 Fashionably broke ladies and gents rejoice!
Lanvin for H&M pictures and video teasers have been leaked and the collection couldn't be more stunning.
The collection will hit US and Canadian stores 20 November and be available worldwide in their other stores 23 November. The collection will be sold in 200 H&M stores around the world.
Elbaz stated in an H&M press release:
"H&M approached us to collaborate, and see if we could translate the dream we created at Lanvin to a wider audience, not just a dress for less. I have said in the past that I would never do a mass-market collection, but what intrigued me was the idea of H&M going luxury rather than Lanvin going public."
The Lanvin for H&M short film will broadcast from the company's website 2 November 2010 at 8PM CET. So, set your phone alarms so you don't miss it!
Don't have an H&M in your state like I do? BEG someone who does to get you something or plan a trip to New York City or California, those are my two choices : ) If only you could order from their website from the states… pout