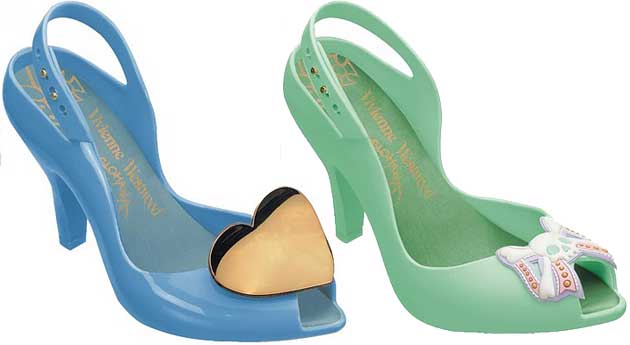 The Melissa shoe is a fashion must whether you're style is classic, sporty, funky urbanite, trendy fashionista, artistic eclectic, or bohemian hippie. You can dress them up for any gala's or social events you might attend or dress them down for those trips to the grocery store to walks on the beach. The Melissa brand is constantly collaborating with different designers, so you'll never be bored or have to wait long for a new style or color and your feet will thank you later.
"All [M]elissa plastic shoes are created with a zero waste ethos and particular attention to the life cycle of materials. melissa recycles 99.9% of factory water and waste, and they recycle overstock styles into next season's collection." [Melissa Australia]

Plastic is the new leather! If you were to get a scuff on your Melissa's, you can easily wipe it off with a warm cloth. Dealing with rainy weather? Have no fear, the Melissa shoe's are perfect for wet and stormy weather!
Check out the entire Vivienne Westwood Melissa Spring Summer 2011 Collection at Hervia
Who wants to pay full price? Check out Melissa shoes on sale here: www.endless.com
here for Melissa's collaboration with other designers
Check out the video of the Spring Summer 2011 collection: