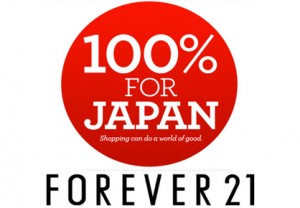 Shopping for a cause couldn't get any easier and this one won't leave you with buyers remorse. Fashion retailer Forever21 will donate 100% of every dollar spent through purchases made through any of their online sites to the earthquake and tsunami relief efforts in Japan.

Purchases must be made on March 18th, 2011 between 12:01 A.M. and 11:59 P.M.

Every dollar spent on any of F21's global e-commerce sites will be donated to the Red Cross and earmarked for Japan.
Below are the links by region
USA
Canada
Europe
United Kingdom
South Korea
Japan