Katy Perry is certainly a teenage dream and knows how to make a style her own.
Katy stepped out in London wearing the Spot Flamenco Split Hem Dress by Australian brand Wheels & Doll Baby and retails for $175.
Don't have $175 to splurge on the dress? Don't fret! Online retailer FredFlare is selling a dress almost identical to the one Katy is wearing minus the slit. The dress is the polka dot Katy dress and retails for $64! Both dresses come sans belt and flower brooch. Add your own personal flare by a adding a belt or flower brooch (handmade or store bought) just like Katy did. Cut a slit on the side of the dress, but dab clear nail polish on the ends to prevent fraying.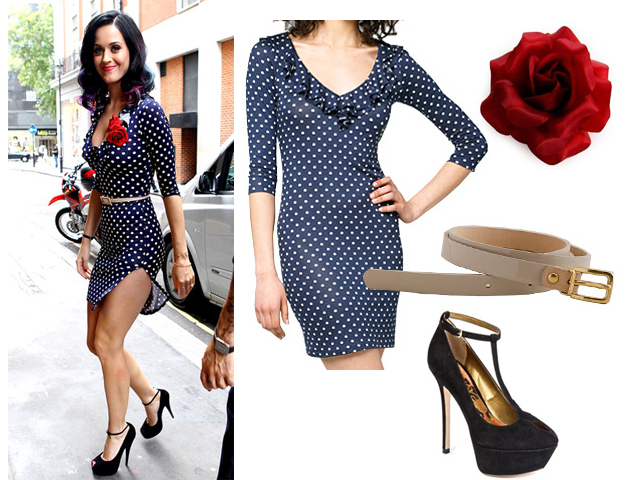 Polka dot Katy dress — "Channel your inner pin-up or be the next teenage dream with this polk-a-dot number." $64, available at FredFlare
Sara Monica Flower Hair Clip and Pin Rose— "Clip it in your hair or pin it anywhere on your favorite dress or top, or add pizzaz to one of your favorite bags." $7.99
available at Amazon.com
Pin-slim patent belt — "This belt is versatile and can be worn with almost any outfit!" $29.50,
available at J. CREW
Sam Edelman Nivan Pump — "I love this style shoe because it can be worn with almost every style." $99, available at www.endless.com