Hello my darlings! Who wants to pay full price for anything? Not I! So, why not share some fabulous deals that are going on this weekend! The Memorial weekend sales are here and now's your time to take advantage of any full priced items you've been leaving in your electronic shopping tote. Jump on these sales before they're over…
Below are a few of my favorites, but please… there are sooo many other items for you to browse through and grab before the weekend sales are over.
Also check out the Memorial Day sale at Endless.com Shoes – Great Prices & Free Overnight Shipping!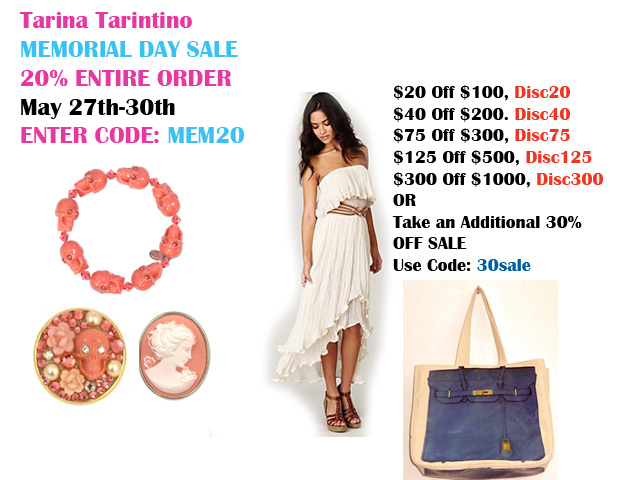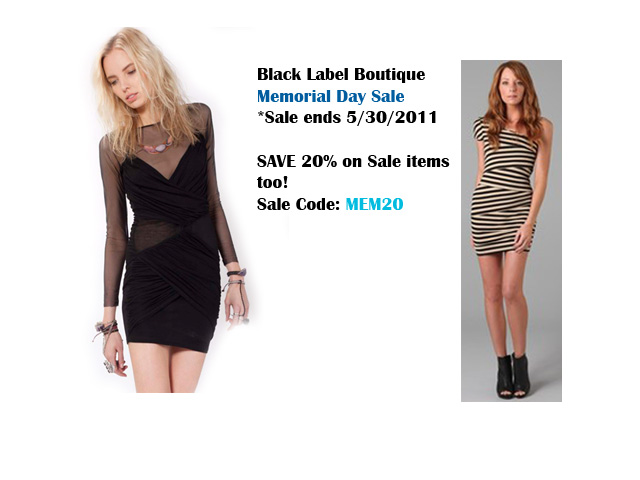 *Discounts are not included with the prices listed : )
Tarina Tarintino is known for her lucite jewelry. Skulls and diamonds are the best accessory for any type of girl. — LUCITE SKULL BEAD BRACELET, $70
If you don't have a cameo ring, grab this one for a discounted price! — CARVED LUCITE CAMEO MOD RING, $75
Yes, I am bad ass. Love the combination of designs in this Tarina Tarintino mod ring. Pair it with anything and it'll be a great statement piece. — SKULL COLLAGE MOD RING, $75
Can't afford an Hermes birkin? No problem! Go eco-chic with this style bag and don't feel bad when you get a stain on it! —
Thursday Friday Together Bag in Blue
, $45
I just came to say hello. Whether you be heading to a music festival or a getaway to the beach or pool, this dress will surely make a statement. — Jen's Pirate Booty Goddess Dress in Natural , $169
I love this dress. Sheer on your hips and shoulders and hugs your body the right way. Ladies! Don't be jealous when you spot the girl wearing this and it isn't you. It also comes in white! Oh, so sexy for a night on the town. —
Style Stalker Trust Fund Dress-PREORDER
, $119
This bad boy can be worn day or night and the seasons don't matter! — Torn by Ronny Kobo Barbara Dress in Stripes, $209
**Other discounts but pictures not included:
Take 20% Off Your DJP Order w/code DJP11MAY at checkout! Offer excl. clearance, certain bra