A tip if you plan to go to Portobello Road. GO EARLY. It's a huge tourist spot and becomes a cluster fuck by noon.
OMG, SHOES. Shoes of every style, occasion and platform can be found in this store. The merry-go-round shoe rack will certainly catch your eye and be the reason you walk into the store. Kurtgeiger
One of a Kind is a vintage store located on Portobello Road and the perfect place to find vintage designer clothes and accessories. It's also a favorite of Kate Moss, Sienna Miller and Victoria Beckham. Need I say more? You'll spend an afternoon rummaging through this wonderful store. One of a Kind

I stumbled across Ottoman Hands while I was checking out all of the different merchant tents on Portobello Road. The hand crafted jewelry is made up of unique different stones and set in silver or gold plated setting. The prices vary depending on the styles and stones. The collection was also picked up by TopShop.

This store has it all. Stocked with punk rocker chic style, this store is sure to bust your bank account, but at least you'll look fabulous and fashionably broke. The website is still in the works, so be sure to check Village Bicycle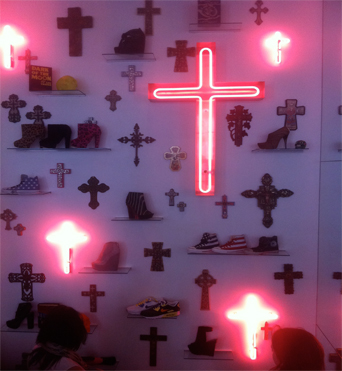 Then there's my ever so favorite store Irregular Choice. If you want a style you can call your own, this is the place to shop. A galore of different patterns, chunky or skinny platforms, and designs on the soles that make it a shame you scuff them up after you wear them. Irregular choice sells, shoes, clothes and accessories, prices range but the purchase will be worth it.