Ever love the way your hair looks after leaving the beach? My hair has it's moments of how it wants to fall, the waves are barely visible. I usually find myself adding leave in conditioner (Kerastase Masquintense) then twisting the right and left sides (same direction on each side) and then twisting the back and throwing it into an up-do. So, it's like a pony tail twisted into a bun with a section of hair twisted on each side. It's a great look to wear on its own, but that's how I achieve wave into my hair as well.
I saw this video on Daily Candy and love the ideas they use! Learn how to achieve the look with help from Coby Alcantar at Whittemore House salon in New York City.

[Daily Candy]
Below are the products she used in the video. I provided you the links: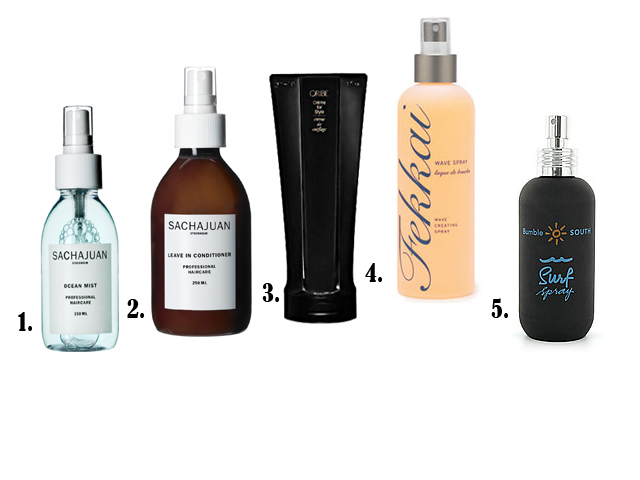 1.) Sachajuan Ocean Mist, $28, 2.) Sachajuan Leavin In Conditioner, $28, 3.) Oribe Creme for Style , 29
Other products you might want to try:
4.) Frederic Fekkai Wave Creating Spray, $24, 5.) Bumble and bumble Surf Spray, $23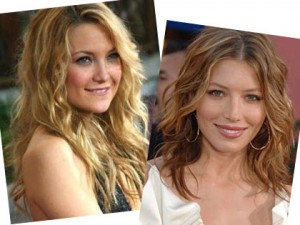 If You Have Naturally Straight Hair…
1. Wash your hair with a mild shampoo and condition it with a rinse-out product. A volumizing conditioner will give your hair the body and bounce you need to have the best beach waves.
2. Blow dry your hair partially by bending over and holding your head upside down. Start at the roots, and work your way toward the ends. Stop blowing it dry while your hair is still damp.
3. Separate your hair into eight or 10 sections. Comb a small amount of hair gel through each section as you go. Wrap each section into a pin curl, and secure it with two bobby pins in a cross-cross pattern to hold them in place.
4. Spritz your pin curls with salt spray or a light hair spray. Allow the spray to dry naturally if you have time. If you're in a hurry, finish by using a blow dryer. Allow the curls to cool.
5. After your hair is dry and cool, remove the bobby pins and finger comb your hair into place. Your hair should fall into soft beach waves around your face. If you have any spots that need extra "oomph," use a curling iron to whip them into shape.
If You Have Naturally Curly Hair…
1. Wash your hair at night before you go to bed. Use a mild shampoo and rinse-out conditioner for curly or wavy hair that will leave your hair soft and manageable.
2. Towel dry your hair. Avoid roughing it up too much, or you risk damaging the hair shafts.
3. Spray some style primer or spray gel on you towel-dried hair. You may use a wide-toothed comb to help distribute the product more evenly.
4. Go to bed with damp hair. The more you toss and turn throughout the night, the wavier your hair will be when you wake up.
5. Get up the next morning and finger comb your beachy waves.
[typef]