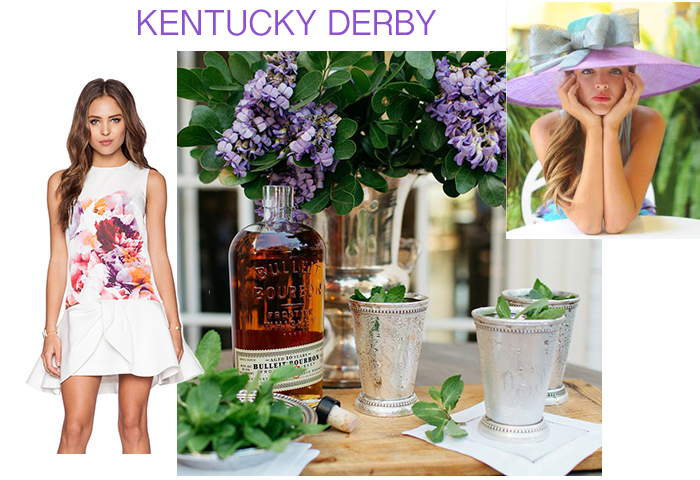 Two events, one weekend? No problem.The Kentucky Derby is best known for ladies big hats, floral dresses and their deliciously refreshing Mint Juleps. Not able to attend the actual event? Throw your own Derby party with friends and get dressed up and create the traditional Mint Julep at home.
[top] Keepsake "Owns My Heart Dress", State of Being "Blue Blossom Dress",
StyleStalker "Auspicious Plunge Dress", ASOS Floral Halter Midi Dress,
Flynn Skye "Kennedy Maxi Dress"
Check out this Mint Julep recipe:
Preparation: Place mint leaves and Mint Simple Syrup in a chilled julep cup. Gently press leaves against cup with back of spoon to release flavors. Pack cup tightly with crushed ice; pour bourbon over ice. Insert straw, place mint sprig directly next to straw, and serve immediately. Sprinkle with powdered sugar, if desired.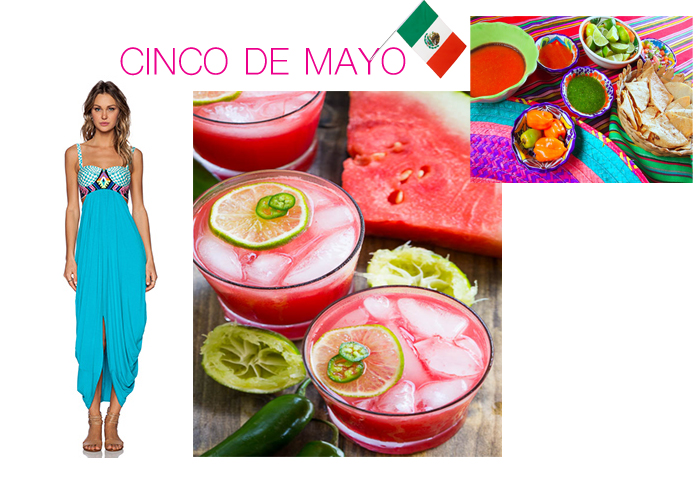 Cinco de Mayo is right around the corner and another thing people will be celebrating this weekend since the actual day falls on a Tuesday. It's all about  Mexican food and margaritas! Get in the spirit and try a spicy jalapeño watermelon margarita!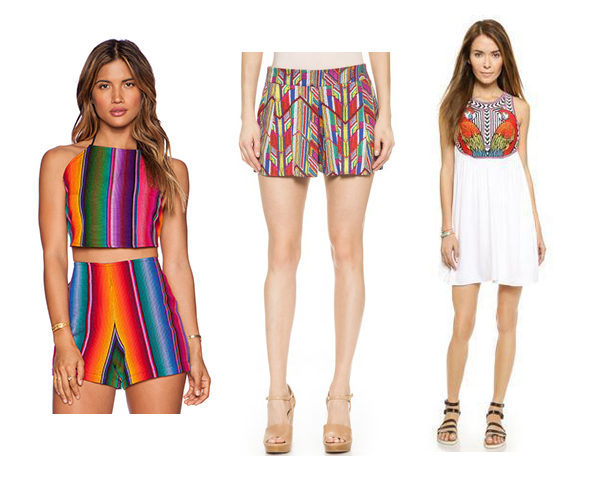 [top] Mara Hoffman Embroidered Maxi Dress, STELA 9 Hacienda Shorts,
ELLA MOSS MAZATLAN SHORT,  Mara Hoffman Embroidered Swing Dress [Sale]
Sweet and spicy margaritas made with fresh watermelon puree, lime juice, Triple Sec, and jalapeno-infused tequila
Recipe type: Cocktail
Serves: 4
             Ingredients
1 jalapeno, thinly sliced
¾ cup white tequila
8-10 cups watermelon chunks (a large dice)
½ cup fresh lime juice
⅓ cup Triple Sec
¼ cup simple syrup
salt, chili powder, and lime juice for salting rims of glasses
Instructions
Place tequila and about 4 slices of jalapeno in a glass measuring cup and place in the refrigerator for 1 to 4 hours depending on how spicy your jalapenos are and how spicy you want the tequila to be. Take a taste after 1 hour and decide whether it is spicy enough. If so, remove jalapenos.
Place watermelon (you may need to do it in batches) in a blender and blend until liquified.
Pour watermelon through a fine-meshed strainer, pressing on it with the back of a spoon to get all the liquid through. Measure out 3 cups of watermelon juice.
In a large pitcher, combine the 3 cups watermelon juice, tequila, lime juice, Triple Sec, and simple syrup.
Place salt with a little chili powder mixed in on a plate. Coat rims of 4 glasses with lime juice and dip in salt mixture.
Fill the glasses with ice and pour Margaritas into glasses. Garnish with lime slices and jalapeno slices if desired.